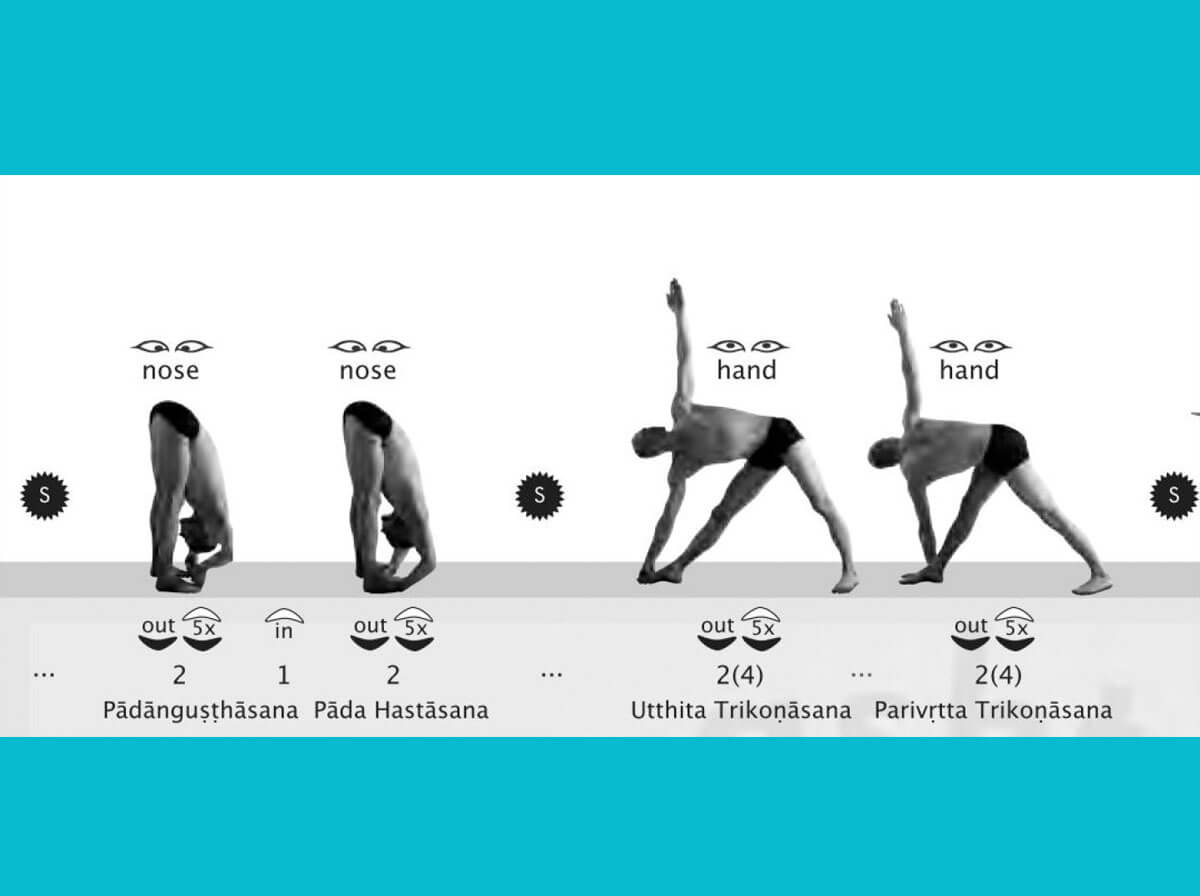 Ashtanga-Yoga system is well known today to the modern yoga practitioners, teachers, guides, and masters. This practice was designed and developed by a southern Indian Sanskrit Scholar and a Hath Yogi, Shri Tirumalai Krishnamacharya. This was later imparted and publicized by one of his disciples, well known yoga master Pattabhi Jois. As Krishnamacharya mentioned in his teachings the origin of Ashtanga-Yoga was found in a mysterious manuscript written on the palm leaves, titled as Yoga Karunta authored by Sage Vamana. The Ashtanga-Yoga system has 6 series of sequences of postures.
The Ashtanga-Yoga like other styles of yoga is a form of Hatha-Yoga which emphasizes on different elements; asana (posture), pranayama (breath control), and dharana (fixations). This Ashtanga-yoga practice is distinguished from Patanjali's Ashtanga-Yoga (the eight elements of yoga) because there is not a correlation between the ashtanga series and the meaning of the term ashtanga which means eight elements.
Basically, the word vinyasa (Vinyāsa) is a Sanskrit word derived from the verb root, "(vi + ni) + as" meaning sitting, being, throwing. The following are several references where the word occurs in yogic contexts: According to Vachaspatyam (a Sanskrit dictionary complied by Tarkavachaspati, Taranatha between 1812-1885) the word vinyasa means placing fingers on the locations heart etc. with the recitation of the mantra is called vinyasa. Shabda-kalpa-druma is a Sanskrit dictionary compiled by Raja Radhakanta Deb (1783-1867) and edited by Karunasindhu Vidyanidhi. Radhakanta Deb. The text mentions these meanings of the word: holding, placing, construction. Further the text refers this word in the context of yoga:
ekaika-varnam uccharya muladharacchirontikam,
namo'ntam iti vinyasa antarah parikirtitah.. (jnanarnava of ishwara)
vyomadyanto namo'nto vas a-bindur bindur varjjitah,
panchashad varna-vinyasah kramad ukto manishibhih.. (tantrasara of bhatta)
sa hetu mani-vinyaso vijneyo na ca danda-vat,
vishuddha-hiraka-nyaso vidheyah sadanopari,
tena sarvani nashyanti vyrishtani mahi-bhujam.. (yukti-kalpa-taru)
The above few references clearly indicate that there was a use of the word vinyasa in the context of yoga. The word vinyasa stands for a yogic practice for awakening the kundalini shakti where the conscious seeds of awareness, bodily movement, use of bija-mantras, and focus points (internal and external) of concentration, the centres of consciousness, such as chakras are involved. This practice is used to cultivate the awareness of subtle energies and movements in the body.
In the benefits of the Ashtanga-Yoga system, it aims to cultivate the heat and warmth of the body so that it awakens the dormant vital force within all of us. Through Ashtanga-Yoga practice one cultivates a synchronization of deeper rhythmic breathing and the body movements. While going through a yoga posture these two are linked in order to create a continuous flow of energy which heats up the body, refresh the oxygen to the blood, nourish the glands and internal organs, cleanse and purify the nervous system and finally release unwanted toxins of the body through the use of breath.