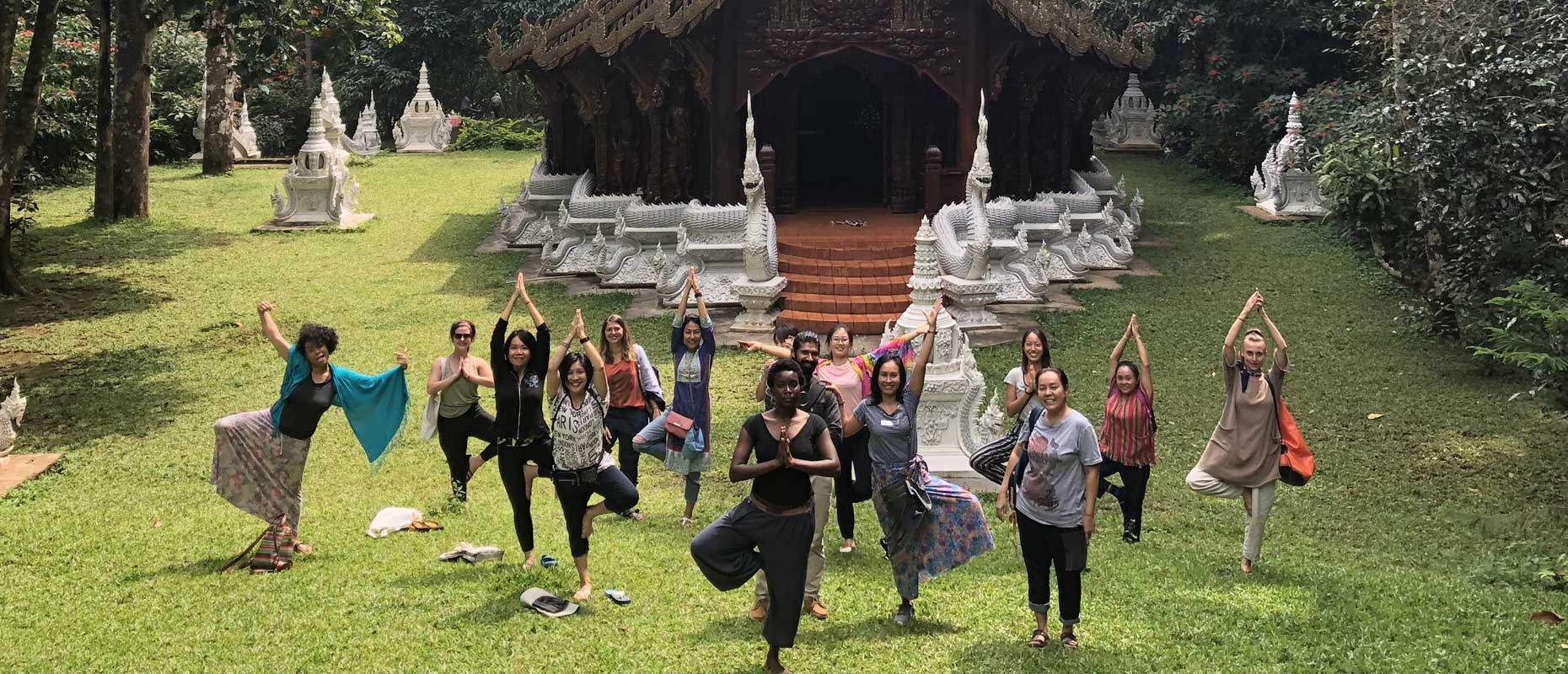 200 hour Yoga Teacher Training in Chiang Mai, Thailand
22 Days | U.S.$ 1799 (Early Bird Price)
---

Since the ancient times, Thailand has been closely linked to India, mainly in culture and in spirituality. Even the foothills of the great Himalayan mountain range of India begins from the highlands of Chiangmai, Thailand. Beyond the boundaries of religions and cultures, there is much ancient wisdom we both share. Our special highly intensive 22 Days 200-Hour Yoga Teacher Training program in Chiangmai, Thailand is dedicated to many students who desire to step into the path of yoga and meditation but are still caught up in the midst of the modern lifestyle that allows only so much time one can take off from the fast-moving life. Our teachers have been brought up and spent their lives in traditional ashram and gurukulams with yoga and meditation as their sole purpose of life. In this special occasion, they are traveling to Thailand with the pure intention of transmitting authentic knowledge of yoga and meditation from the ancient Vedic scriptures. Our school has priced the course only enough to cover expenses required to hold this program, without any additional profit beyond necessary expenses to make this happen.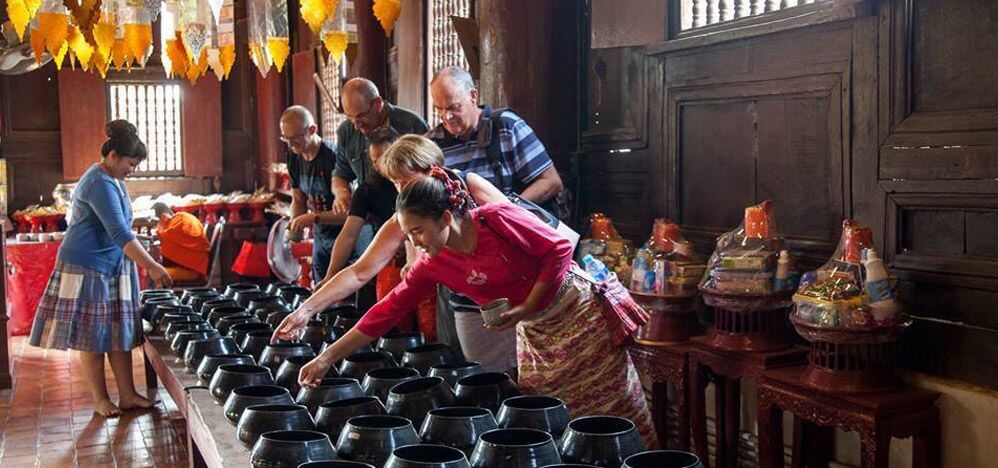 200 Hour Yoga Teacher Training Highlights
21 night's accommodation.
Sankhya and yoga philosophies
Daily Hatha-yoga & Ashtanga-yoga classes
Daily Mantra recitation guided & Karma Yoga
Daily Relaxation & meditation practices
Shat-kriya & Daily guided breathing and pranayama practices
Yoga anatomy & physiology workshops
Yoga practicum/practice teaching
Instructions to teach and guide others
200-hours yoga TTC Certificate from Yoga Alliance, USA
Healthy nutritious vegetarian breakfast
Traditional Northern Thai Dinner with Thai Cultural Performance
Excursion to nearby ancient Buddhist temples and sightseeing on Thailand's highest mountain range.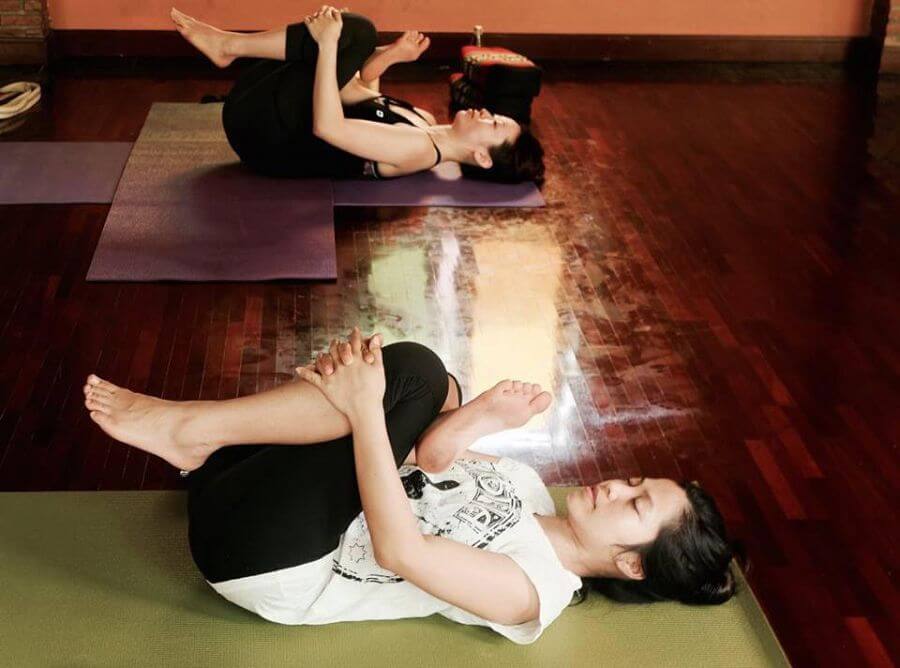 Who Should Apply for 200 Hour Yoga TTC?
This 200 Hour Yoga TTC is designed and perfect for the students who;
are either fresh beginners or beginners with basic knowledge of yoga,
wish to go through a deep and intense life changing experiences yoga,
are looking for a complete detoxification from their life through yogic wisdom, science and practices,
are entirely dedicated and focused to become a professional 200 RYT yoga teacher and guide,
wish to get an exposure to India culture and its spiritual values
200 Hour Yoga Teacher Training Course Curriculum
Mantra recitation (mantra – Japa), daily joints and glands practices (granthi – vimochana – kriya), yoga postures (yoga asanas), meditative steps of doing asanas, six cleansing exercises (shat karma), science of breath (pranayama), yoga energy locks (Bandha) and yoga gestures (Mudra), meditation (Dhyana), yogic sleep (yoga Nidra), history and philosophy of yoga (yoga Darshana), yogic anatomy and physiology of human body, basic principles of Ayurveda, asana alignment practicum classes, yoga teaching practice, and teaching methodology. Yoga psychology enhance the students' learning at various levels; mentally and emotionally by which they learn to adopt the yogic disciplines in daily life. Here is the detailed 200 Hour Yoga Teacher Training Course:
Yoga Postures (Hatha & Vinyasa)
Meditative steps of performing the hatha yoga; centering, entering, refining, holding, coming out, and reflection
Ashtanga-Vinyasa-Yoga flow – series 1
Surya-Namaskara (sun salutations) – dynamic surya namaskara, surya namaskara with breathe awareness, surya namaskara with mantra chanting
Types of Yoga posture- standing poses, sitting poses, backward bending poses, forward bending poses, spinal twisting poses, fire series, inversion poses, shavasana
Postural alignment and art of adjustment
Counter pose
Contraindications
Pranayama (the science of breath)
Science of breath
Sitting postures for pranayama practice
How to establish diaphragmatic breathing before pranayama practice
1:1, 1:2 and 1:4 breathing practices
Types of pranayama – nadi shodhana pranayama, ujjayee, kapalabhati, bhastrika, shitali, shitkari, brahmari, and anuloma viloma
Practice relaxation & Yoga Nidra
Relaxation in daily life
Tension and relaxation
Systematic relaxation
31 pints relaxation
61 points relaxation exercises
Preparation for Yoga Nidra
Meditation
What is meditation?
Meditation in daily life
Sitting positions for meditation
Two to five minutes meditations
So-Ham mediation
Yoga Anatomy & Physiology
Introduction about anatomy and physiology
The yogic study of digestive system
The effects of yoga practices on digestive system
Respiratory system
The effects of yoga practices on respiratory system
Effect of yoga posture on muscles and systems
Nadis (energy channels)
Chakras (energy plexus)
Pancha tatwa (five great elements)
Panchakosha (five sheaths)
Pancha pranas(five vital energy
Yoga philosophy
General introduction: Six school of Indian philosophy
Samkhya and yoga
Intro of Pattanjali's Yoga-sutras
Highlight of astanga yoga: yama, niyama, asana, pranayama, pratyahara, dharana, dhyana, and Samadhi
Introduction to Upanishad
Life style and yoga ethics
Ayurveda
Yoga & Health
Basic principle of ayurveda
Basic doshas
Tri-gunas
Balance of the mind and Ayurvedic diet
Mudras
Jnana-mudra
Dhyana-mudra
Vishnu-mudra
Hridaya-mudra
Mantra chanting
Om mantra
Morning mantra
Guru mantra
Meal mantra
Gayatri mantra and more
Surya-namaskara mantras – 12 names of sun
Teaching Methodology & Home Work
Lesson plan
Assignments
Practice teaching
Feedback
Group discussion
Question and answer
Homework
200 Hour Yoga Teacher Training Course in Chiang Mai, Thailand: Daily Schedule
As per the criteria and requirement set for the 200 Hour Yoga Teacher Training Course by Yoga Alliance USA, there will be a reasonably tight schedule. This 200 Hour Yoga Training will be schedule on 6 days for the intensive study and practices and on the 7th day there will be an excursion to nearby ancient Buddhist temples and sightseeing on Thailand's highest mountain range. Holy Shrine & Temples Visits and Explore time as the related aspects of yoga training. In spite of such intensive schedule you could find this training an enlightening and interesting process of transformation. During your training you will have an opportunity to live with nature. The Yoga Training schedule begins at 6:15am with a short morning prayer followed by a shat-kriya & pranayama exercises. Then there comes the morning session for the traditional Yoga Postures (Hatha-Yoga) before the breakfast. Then we have two main sessions; one philosophy and the other yoga anatomy followed by lunch at noon. Then there will be some self-study and Self-practice time after before we begin the afternoon and evening sessions of Vinyasa-Yoga Asanas followed by Relaxation & Meditation. There will be some inspirational cultural activities, such as satsang (devotional songs), lectures on yoga related subjects, audios and video lectures. The weekly assignments will be a part of the training as that is conducive to gain in-depth knowledge of the subjects and experience through your yoga practices. During this yoga teacher training you will be provided with three yoga vegetarian meals including fruit refreshments and green tea.
We encourage the students to go sleep early about 10pm as that is conducive to the yoga training. Here it is the typical daily schedule for 200 Hour Yoga Teacher Training in Chiang Mai, Thailand at our School Yoga Vidya Mandiram:
Typical Daily Schedule
05:00
:
Wake Up!
06:00
:
Morning Prayer (Mantra Chanting)
06:30
:
Shat-kriya (Six Cleansing Exercises) & Pranayama Practices
07:30
:
Hatha Yoga Asanas (Session – I)
09:00
:
Breakfast
10:00
:
Yoga Philosophy, Life-style & Yoga Ethics
11:00
:
Yoga Anatomy & Physiology Workshops
12:30
:
Lunch
13:30
:
Ayurveda/Practice Teaching/Self-Study/Self Practice
15:30
:
Karma-Yoga
16:00
:
Tea Time
16:30
:
Ashtanga Vinyasa Asanas (Session – II)
18:00
:
Relaxation & Meditation
19:00
:
Dinner
20:00
:
Guest Lectures/Self-Practice/Self-Study/Audio-Video
21:00
:
Go to Sleep!
Note: Daily Schedule is subject to change.
200 Hour Yoga Teacher Training Course in Chiang Mai, Thailand: Course Dates
3

rd

– 24th October 2020
200 Hour Yoga TTC in Chiang Mai Thailand

1st

– 22nd November 2020
200 Hour Yoga TTC in Chiang Mai Thailand

3rd

– 24th October 2021
200 Hour Yoga TTC in Chiang Mai Thailand

1st

– 22nd November 2021
200 Hour Yoga TTC in Chiang Mai Thailand

3rd

– 24th October 2022
200 Hour Yoga TTC in Chiang Mai Thailand

1st

– 22nd November 2022
200 Hour Yoga TTC in Chiang Mai Thailand

3rd

– 24th October 2023
200 Hour Yoga TTC in Chiang Mai Thailand
Venue:

MaeWin Guesthouse & Resort,

47 Moo 5, Mae Win Sub-District,
How to reach Here
The venue for Chiangmai 200 HR TTC is

MaeWin Guesthouse & Resort,

located about 60km southwest of Chiangmai city.
Address:
MaeWin Guesthouse & Resort,
47 Moo 5, Mae Win Sub-District,
Chiangmai,
Thailand 50360
1. GETTING TO CHIANGMAI, THAILAND
ARRIVAL BY PLANE:
You could opt for a direct flight to Chiangmai International Airport (CNX). If there are no direct flights from your city, there are certainly connections you could make from your city to Chiangmai.
ARRIVAL BY TRAIN:
If you are traveling from within Thailand, you could take the train from the city you are into Chiangmai province. From Bangkok, the journey takes about 12 hours but evening trains feature comfortable bunks with or without air-con. Train tickets from Bangkok are between 600-1,000 THB for a train ticket depending on the level of
comfort you want.
ARRIVAL BY BUS:
Buses run roughly every hour from Bangkok to Chiang Mai, departing from Bangkok's Mo Chit Station and arriving at Chiang Mai's Eastern (main) Bus Terminal. The first departure of the day is at 05:30 and the last is at 22:00. From Bangkok, the journey takes about 10 hours and there are a variety of busses available, with the VIP busses being the by far the most comfortable. Bus prices range from 12 USD to 25 USD per trip from Bangkok to Chiangmai.
2. GETTING TO THE TRAINING CENTER
ARRIVAL BY PUBLIC TRANSPORTATION:
"Maewin Guesthouse & Resort is 53 km in the southern direction from Chiangmai city and 55 km from Chiangmai International Airport (CNX). The bus for Mae Wang district leaves from the corner of Wualay Rd. and Chang Lor Rd., opposite the Chiangmai Gate (1 of the 4 city gates) on the south side of the moat that surrounds the old city. Look for a bus that goes to บ้านกาด (Baan Kaad), it's a yellow pick up truck with seats at the back and a sign on the roof, the route stops in Mae Wang. Sit to the end of the line which is 5km passed Baan Kaad fresh market. The ride costs only 35 baht per passenger. From there, you have to pay extra fee of around 250-300 baht to reach the guesthouse."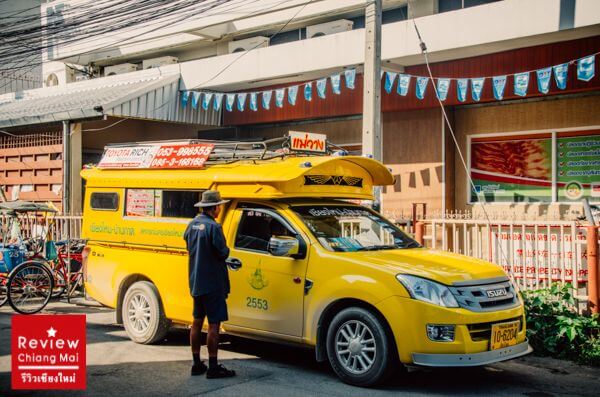 ARRIVAL BY TAXI:
Yoga Vidya Mandiram is happy to assist you in arranging a taxi pick up once you arrive in Chiangmai. The taxi fee and travel time will depend on your pick up location and traffic. It is an average of 1.20 hours from Chiangmai International Airport (CNX) to the guesthouse by taxi and costing around 1,000 baht per trip.
Yoga TTC in Chiang Mai, Thailand - Course Fee
Price Type
Early Bird Discount
USD/Person
Full Price (Shared Dorm Room)
US $350

2149

1799
Full Price (Shared Twin Room)
US $350

2450

2100
Full Price (Private Room)
US $350

2750

2400