200 HOUR YOGA TEACHER TRAINING IN DHARAMSHALA, INDIA
22 Days | Beginner – Intermediate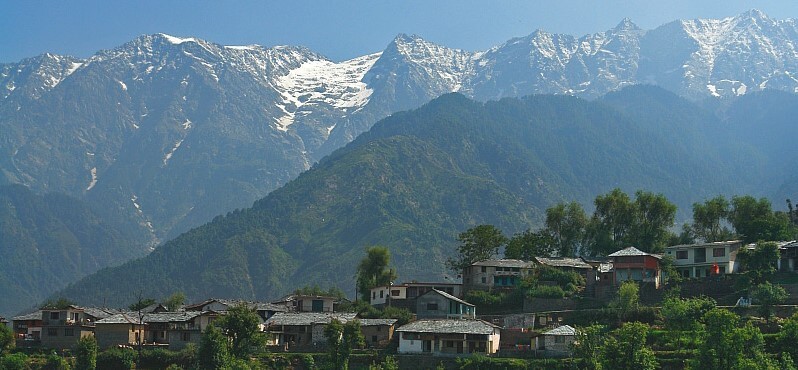 Nestled in the mystic tall pines forest with its picturesque natural beauty and unique mix of Indian and Tibetan cultures, Dhramashala is a conducive place for yoga and meditation. The name Dharmashala derives from Sanskrit language which means "City of Dharma (virtues)" and so is true to its name. This picturesque destination is not only popular among tourists, but among spiritual seekers and religious travellers.
The 200 Hours Yoga Teacher Training at Yoga Vidya Mandiran in Dharamshala, India centre is held over a period of 22 days and 21 nights. The training lays out a strong foundation for deepening the understanding and practices of yoga in a holistic approach. Yoga has become popular in this modern age for its physical practices ("asana") and other aspect that are essential parts of yoga has been largely looked over. In our TTC, we make sure to integrate well-rounded studies of yoga and bringing spirituality into the teachings and practices to support personal and spiritual growth of our students.
The curriculum covers the fundamental elements of yoga based on essential subjects consisting of pranayama, shat kriya, asana practices, yoga philosophy, yoga anatomy, relaxation (Yoga Nidra) and meditation. For asana practices, our school focus on Hatha Yoga and Ashtanga Vinyasa Yoga styles of asana. Students will go through 6 days of training with 1 rest day per week. On this rest day, our school organizes a half-day excursion for students that may involve visits to sacred sites, waterfall or city exploration. The rest day usually falls on a Sunday, but may be shifted to a weekday to avoid tourists and traffic during high season in Dharamshala.
Accommodations, meals and excursions during the training are inclusive in the course fee as mentioned in more detail below.
Course Level
Language of Instruction:
200 Hours Yoga TTC is suitable for those who...
Are interested in understanding and studying yoga in a holistic approach from a solid foundation. It does not matter if you feel inexperienced in yoga. You are welcome.
Are interested in a balance in lifestyle through health in both body and mind.
Are interested in self-discovery through yoga philosophy, meditation and its practices.
Wants to deepen their understanding and practice in a structured course after years of casually studying and practicing yoga as a hobby.
Wants to build a solid foundation in yoga, not only in asana but its philosophy and other essential practices, as a based to deepen their future practices and studies of yoga.
Aspires to share your experience by become an internationally recognized yoga teacher.
Course Completion Requirements
Students are required to complete and meet the following criteria during the course:
Weekly Assignments
Final Teaching Exam
Final Written Exam
Required 100% attendance
No violation of Code of Conduct and School Policy
200 Hour Yoga Teacher Training : Course Curriculum
200 Hour Yoga Teacher Training Course in Dharamshala, India: Daily Schedule
This 200 Hour Yoga Training will be schedule on 6 days for the intensive study and practices and on the 7th day there will be Himalayan sightseeing, Holy Shrine & Temples Visits and Explore time as the related aspects of yoga training. In spite of such intensive schedule, you could find this training an enlightening and interesting process of transformation. The weekly assignments will be a part of the training as that is conducive to gain in-depth knowledge of the subjects and experience through your yoga practices. During this yoga teacher training you will be provided with three yoga vegetarian meals, including afternoon masala tea.
We encourage students to go sleep early around 9pm or before 10pm as that is conducive to the yoga training. Here it is the typical daily schedule for 200 Hour Yoga Teacher Training in Dharamshala, India:
Typical Daily Schedule
Time
Activity
05:00 – 06:00
:
Wake Up!
06:15 – 06:30
:
Mantra Chanting
06:30 – 07:30
:
Shat-kriyas & Pranayama Practices
07:30 – 09:00
:
Hatha Yoga (Classical)
09:00 – 10:00
:
Breakfast & Free Time
10:00 – 11:00
:
Yoga Philosophy
11:00 – 12:00
:
Yoga Anatomy & Physiology
12:30 – 13:00
:
Karma Yoga (Seva)
13:00 – 14:30
:
Lunch
14:30 – 16:00
:
Self-Study / Self-Practice / Extra Alignment Session (2x per week)
16:00 – 16:15
:
Tea Break
16:30 – 18:00
:
Ashtanga Vinyasa Yoga
18:00 – 19:00
:
Relaxation & Meditation
19:00 – 20:00
:
Dinner
20:00 – 21:00
:
Self-Study / Free-Time
21:00
:
Go to Sleep!
* Schedule is subjected to slight changes.

Note: The first day of the course will start with an opening fire ceremony at 10.30am.
200 Hour Yoga Teacher Training Course in Dharamshala, India: Course Dates
Here are few upcoming course dates for our 200 Hour Yoga Teacher Training:
| Course Date | Course Name | Book Now |
| --- | --- | --- |
| 2nd – 23rd June, 2020 | 200 Hour YTTC in Dharamshala, India | |
| 2nd – 23rd July, 2020 | 200 Hour YTTC in Dharamshala, India | |
| 2nd – 23rd June, 2021 | 200 Hour YTTC in Dharamshala, India | |
| 2nd – 23rd July, 2021 | 200 Hour YTTC in Dharamshala, India | |
| 2nd – 23rd June, 2022 | 200 Hour YTTC in Dharamshala, India | |
| 2nd – 23rd July, 2022 | 200 Hour YTTC in Dharamshala, India | |
| 2nd – 23rd June, 2023 | 200 Hour YTTC in Dharamshala, India | |
| 2nd – 23rd July, 2023 | 200 Hour YTTC in Dharamshala, India | |
200 hour Yoga TTC in Dharamshala, India: Course Fee
| Accommodation Type | Price Per Person |
| --- | --- |
| Shared Twin Room | US$ 1599 |
| Private Room | US$ 1900 |
Book Your Seat: A minimum of US$ 200 advance deposit is required to secure your seat for the course. The remaining course fee is due on arrival at our school reception.
Refund Policy
Advance deposit is strictly non-refundable. However, your advance deposit amount can be retained for rescheduling, only if applicant makes a request 7 days before the program start date. Please read details under Refund Policy.
School Policy & Code of Conduct
By signing and booking for your course at Yoga Vidya Mandiram, you are acknowledging that you have read, agree and accept our School Policy and Code of Conduct. Please go through our School Policy and Code of Conduct thoroughly.
"TRULY FORTUNATE TO HAVE CHOSEN THIS SCHOOL". This school went above and beyond any expectations I held. I come from Scotland (currently living in Vietnam) and found that it was of the same standard as back home. The training itself took me on a journey of knowledge and understanding about yoga and how it relates to me and my current situation. I learned so much in all of the topics that I never expected to learn. The teachers are all really inspiring and genuinely lovely people and I really couldn't have asked for better teachers. The accommodation is very quaint and lovely, its clean, comfortable and just what you need. It's in the most beautiful location, outside Chiangmai in the rolling hills among the rice paddies. So beware of a friendly spider (or gecko) or 2 🙂 The food is amazing!!! Its vegetarian and you have a buffet style dinner every night and the most amazing waffles in the morning! Peebee and her team looked after everyone's various dietary equirements without a hesitation. I'm not a vegetarian but it was definitely my kind of food. Some people struggled (energy wise) without eating meat so I'd suggest to others who feel this may be problem to them, just bring some protein powder or tinned tuna or something. Hope was amazing from the moment I booked until the moment I left. She is so organised and professional but everyone felt as though she valued us and she had a great relationship with everyone. Highly highly reccomend this training! Wish I had longer to stay with you!