200 HOUR YOGA TEACHER TRAINING IN RISHIKESH, INDIA
22 Days | Beginner – Intermediate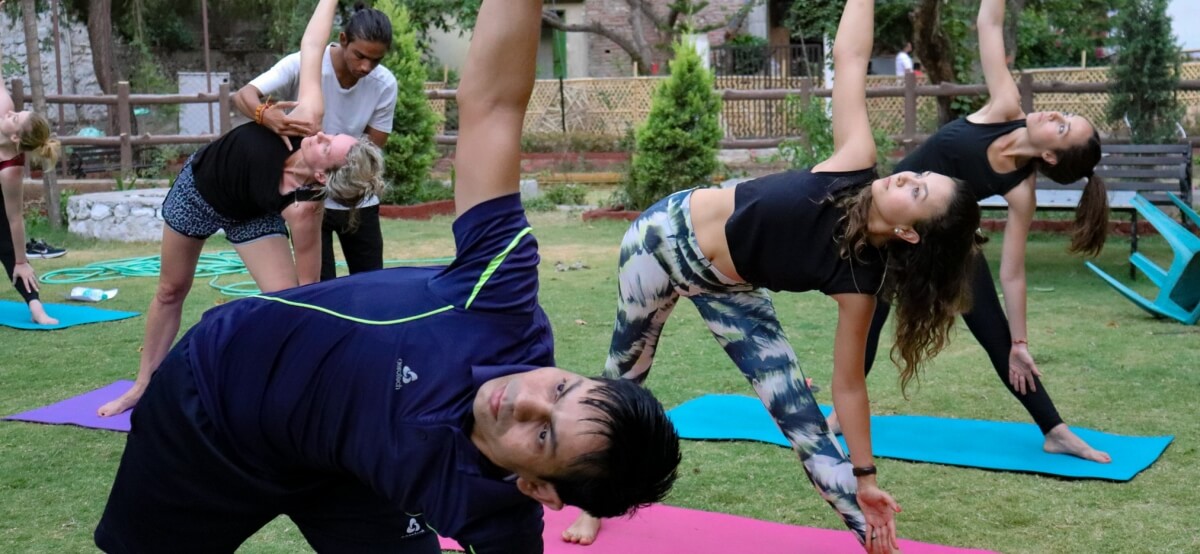 Our 200 Hour Yoga Teacher Training Course in Rishikesh, India is a comprehensive program that is designed to certify individuals as yoga teachers. This is an important step for individuals who want to become yoga teachers and share their knowledge and passion for yoga with others. The course provides a comprehensive understanding of the various aspects of yoga and how to effectively teach them to students of different levels and abilities. It covers important topics such as anatomy and physiology, yoga philosophy and history, teaching methodology, and ethics.
Additionally, the yoga course offers hands-on experience through practicum and teaching opportunities, which allows the students to apply the knowledge they've acquired in a real-world setting. It also provides an internationally recognized certification which is a pre-requisite for many Yoga schools/studios/centres and a good way to validate your skills and knowledge as a yoga teacher.
Overview of 200 Hour Yoga Teacher Training in Rishikesh, India
Our 200 hour Yoga Teacher Training in Rishikesh, India is a residential, comprehensive program that covers various basic and intermediate aspects of yoga and equips participants with the knowledge and practices, and skills to become a certified yoga teachers. We hold this Yoga TTC at our Yoga School in Rishikesh. Rishikesh is considered the world capital of Yoga, and is known for its spiritual significance and being the home to many renowned yoga schools, yoga branches, trainers, teachers, masters, and gurus. The yoga teacher training in Rishikesh essentially includes:
Asanas (Yoga Postures): Yoga participants learn how to properly align and perform various yoga postures, as well as how to modify and adjust them for different levels of students.
Pranayama (Breathing Techniques): Participants learn different breathing techniques to help with focus, relaxation, and overall well-being.
Meditation Techniques: Participants learn various forms of meditation and how to integrate them into their practice and teaching.
Relaxation & Yoga Nidra: Students learn the various forms of relaxation and preparatory exercises of Yoga Nidra and how to integrate them into their personal learning and teaching.
Yoga Philosophy: Participants study the history and principles of yoga, including the 8-limbed path of yoga as described in Patanjali's Yoga Sutras.
Yoga Teaching Methodology: Participants learn how to effectively teach yoga to students, including how to create and plan classes, how to use verbal cues and adjustments, and how to create a safe and inclusive environment for students.
Practical Teaching Experience: Participants practice teaching in small groups and receive feedback from their instructors to help them improve their teaching skills.
Yoga Ethics: Participants learn about the ethical principles of being a yoga teacher and how to conduct themselves in a professional manner.
The training also includes daily yoga practice, and upon completion of the training, participants are often eligible to register with the Yoga Alliance as a Registered Yoga Teacher (RYT 200). Additionally, Yoga TTC includes additional elements such as Ayurveda, Karma Yoga, and Chanting which are considered integral parts of traditional Indian Yoga.
The 200 Hours Yoga Teacher Training in Rishikesh, India at Yoga Vidya Mandiram school is held over a period of 22 days and 21 nights. The training lays out a strong foundation for holistically deepening the understanding and practices of yoga. Yoga has become popular in this modern age for its physical practices ("asana") and another aspect that is an essential part of yoga has been largely looked over.  In our TTC, we make sure to integrate well-rounded studies of yoga and bring spirituality into the teachings and practices to support the personal and spiritual growth of our students.
The curriculum covers the fundamental elements of yoga based on essential subjects consisting of pranayama, shat kriya, asana practices, yoga philosophy, yoga anatomy, relaxation (Yoga Nidra), and meditation.  For asana practices, our school focus on Hatha Yoga and Ashtanga Vinyasa Yoga styles of asana. Students will go through 6 days of training with 1 rest day per week.
Accommodations, meals, and excursions during the training are included in the course fee as mentioned in more detail below.
Course Level
Language of Instruction:
200 Hours Yoga TTC is suitable for those who...
Are interested in a balanced lifestyle and holistic approach to health in both body and mind.
Are interested in self-discovery through yoga philosophy, meditation, and its practices.
Want to deepen their understanding and practice in structured yoga training after years of casual studies and practices.
Want to build a solid foundation in yoga, not only in asana, but its philosophy and other essential practices, as a base to deepen their future practices and studies of yoga.
Aspire to share their experiences as internationally recognized yoga teachers.
Course Completion Requirements
Students are required to complete and meet the following criterias during the course:
Weekly Assignments
Final Teaching Exam
Final Written Exam
Required 100% attendance
200 Hour Yoga Teacher Training : Course Curriculum
200 Hour Yoga Teacher Training Course in Rishikesh, India: Daily Schedule
This 200 Hour Yoga Training will be scheduled for 6 days for intensive study and practices and on the 7th day there will be Himalayan sightseeing, Holy Shrine & Temples Visits, and Explore time as the related aspects of yoga training. In spite of such an intensive schedule, you could find this training an enlightening and interesting process of transformation. During your training, you will have an opportunity to live with nature.
The Yoga Training schedule begins at 6:15 am with a short morning prayer followed by a pranayama session. Then there comes the morning session for the traditional Yoga Postures (Hatha-Yoga) before breakfast. Then we have two main sessions; one philosophy and the other yoga anatomy followed by lunch at noon. Then there will be some self-study and Self-practice time before we begin the afternoon and evening sessions of Vinyasa-Yoga Asanas followed by Relaxation  & Meditation. There will be some inspirational cultural activities, such as Satsang (devotional songs), lectures on yoga-related subjects, audio, and video lectures. The weekly assignments will be a part of the training as that is conducive to gaining in-depth knowledge of the subjects and experience through your yoga practices. During this yoga teacher training, you will be provided with three yoga vegetarian meals including fruit refreshments and green tea.
We encourage the students to go sleep early about 10 pm as that is conducive to the yoga training.  Here is the typical daily schedule for 200 Hour Yoga Teacher Training in Rishikesh, India at our School Yoga Vidya Mandiram:
Typical Daily Schedule
Time
 
Activity
05:00
:
Wake Up!
06:15 – 6:30
:
Mantra Chanting
06:30 – 7:30
:
Shat-kriyas & Pranayama Practices
07:30 – 9:00
:
Hatha Yoga (Classical)
09:00 – 10:00
:
Breakfast & Free Time
10:00 – 11:00
:
Yoga Philosophy
11:00 – 12:00
:
Yoga Anatomy & Physiology
12:30 – 13:00
:
Karma Yoga (Seva)
13:00 – 14:30
:
Lunch
14:30 – 16:00
:
Self-Study / Self-Practice
16:00 – 16:30
:
Tea Break
16:30 -18:00
:
Ashtanga Vinyasa Yoga
18:00 – 19:00
:
Relaxation & Meditation
19:00 – 20:00
:
Dinner
20:00 – 21:00
:
Self-Study / Free-Time
21:00
:
Go to Sleep!
Note: Daily Schedule is subject to change.
200 Hour Yoga Teacher Training Course in Rishikesh, India: Course Dates
This 200 Hour Yoga Teacher Training Course in Rishikesh, India is usually held on the 2nd – 23rd of every month throughout the year. So you can apply any month in advance. Our few upcoming 200 Hour Yoga Teacher Training Courses are on the following dates:
| Course Date | Course Name | Book Now |
| --- | --- | --- |
| 2nd – 23rd January | 200 Hour YTTC in Rishikesh, India | |
| 2nd – 23rd February | 200 Hour YTTC in Rishikesh, India | |
| 2nd – 23rd March | 200 Hour YTTC in Rishikesh, India | |
| 2nd – 23rd April | 200 Hour YTTC in Rishikesh, India | |
| 2nd – 23rd May | 200 Hour YTTC in Rishikesh, India | |
| 2nd – 23rd June | 200 Hour YTTC in Rishikesh, India | |
| 2nd – 23rd July | 200 Hour YTTC in Rishikesh, India | |
| 2nd – 23rd August | 200 Hour YTTC in Rishikesh, India | |
| 2nd – 23rd September | 200 Hour YTTC in Rishikesh, India | |
| 2nd – 23rd October | 200 Hour YTTC in Rishikesh, India | |
| 2nd – 23rd November | 200 Hour YTTC in Rishikesh, India | |
| 2nd – 23rd December | 200 Hour YTTC in Rishikesh, India | |
200 hour Yoga TTC in Rishikesh: Course Fee
Accommodation Type
Price Per Person
Shared Triplet Room
US$ 820 / US$ 697
Shared Twin Room
US$ 1400 / US$ 1190
Private Single Room
US$ 1650 / US$ 1403
Note: Yoga Vidya Mandiram is currently offering 15% discount for 200 Hours Yoga TTC commencing in 2022-23.
Accommodation Type
Price Per Person
Shared Twin Room
US$ 1400 / US$ 700
Private Single Room
US$ 1650 / US$ 850
Note: Yoga Vidya Mandiram is currently offering a huge discount considering due to the present pandemic for the next few months; May, June, July & August for the 200 Hours Yoga TTC.
Book Your Seat: A minimum of US$ 200 advance deposit is required to secure your seat for the course. The remaining course fee is due on arrival at our school reception.
Refund Policy
Advance deposit is strictly non-refundable. However, your advance deposit amount can be retained for rescheduling, only if the applicant makes a request 7 days before the program start date.  Please read the details under Refund Policy.
School Policy & Code of Conduct
By signing and booking for your course at Yoga Vidya Mandiram, you are acknowledging that you have read, agree, and accept our School Policy and Code of Conduct. Please go through our School Policy and Code of Conduct thoroughly.
"Yoga Vidya Mandiram exceeded my expectations by far" The school offers an amazing yoga Programm and I didn't expect such a diverse and intense( in a good way) training. You get the chance to learn about yoga and yourself while feeling welcome and safe. You make huge progress in your practice and feel well prepared to slowly start teaching. Lalit and all the other people make sure that your stay is as pleasant as possible and go above and beyond. I had to go to the hospital once and Lalit helped me clean out my wound with his own hands and two of the guys from the school drove me there and were by my side, even bought me food on our way back. I can't even put into words how giving and full of love everyone who works at the school is. I'm extremely grateful as I felt like being with family. The room is very spacious and VERY clean, the food and kitchen have restaurant quality and the campus is nicely located near the mountains but in walking distance to the tourist spots in town. Even on sundays, special events were organised for us like visiting beautiful temples or going on a rafting adventure on the Ganges. To be honest, I don't even know how it's possible to have experienced so much quality stuff and paying such little money for the course. The teachers really live what they are teaching so it's actually more sharing experience than teaching. You can ask them anything and they will have had experience with it. The training is extremely good value and I want to come back for my 300 hour course. Thank you so much. Namaste.