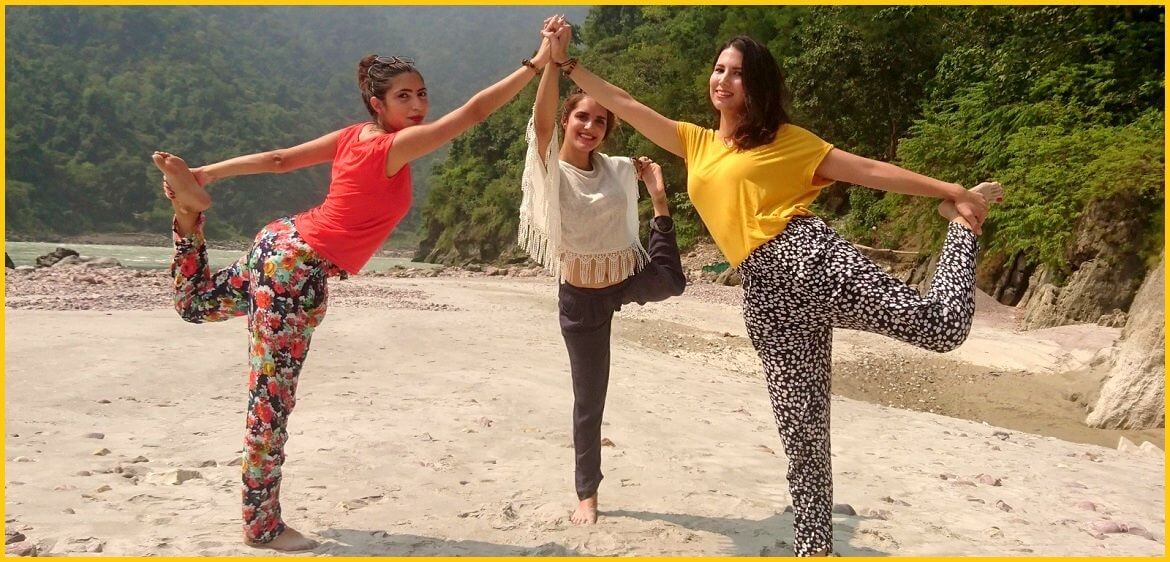 50 hour Yoga Teacher Training in Rishikesh | US $350
7 Days | Beginner
---

This 50 hour intensive yoga course trains and aims to guide the students to establish a harmonious lifestyle for themselves and share their experiences with others for the better life.
50 Hour Yoga Teacher Training Highlights
Daily yoga asanas classes beginning to intermediate levels
Daily shat-kriyas (six channel purification exercises), breath awareness and pranayama practices
Karma-yoga and daily mantra recitations
Introductory study of Indian philosophies including Sankhya, Yoga and Vedanta philosophies
Daily guided instructions into relaxation and meditation practices
Note: For an AC room please inquire from the School)
6 nights' accommodation (with WiFi, AC & Non-AC)
Healthy nutritious vegetarian three meals; breakfast, lunch, and dinner
Excursion to the adventurous activities including nearby holy shrines and temples and tracking in the Himalayas
Who Should Apply for 50 Hour Yoga TTC?
This 50 hour Yoga Teacher Training Course is designed and perfect for the students who;
are either fresh beginners or beginners with basic knowledge of yoga,
wish to go through a deep and intense life changing experiences yoga,
are looking for a complete detoxification from their life through yogic wisdom, science and practices,
are entirely dedicated and focused to become a professional yoga guide,
wish to get an exposure to India culture and its spiritual values
Give yourself the opportunities to learn and have a magical life-changing experience of yoga, with this 50-hour yoga teacher training program in Rishikesh, India. This training mainly consists of the traditional Hatha and Ashtanga Vinyasa yoga styles. After this, you will be ready for the 200-hour yoga teacher training program. Feel the change within you and your yoga-teaching technique.
This teacher training is a multi-style program for beginners with basic knowledge of yoga. After the completion of the course, the students will be given a certification of the completion of the 50-hour yoga training program from Yoga Vidya Mandiram School. This 50-hour yoga teacher training will be held by experienced reputed meditation guides and the team of accomplished yoga teachers.
The teachers and guides include an Ayurvedic doctor, who feels privileged to share his/her knowledge and practice of ancient traditions with modern elements of medical sciences (yoga anatomy and physiology). This training program aims to provide a solid foundation in different aspects of yogic disciplines, that prepare you to apply for the 200-hour yoga teacher training program.
50 Hour Yoga Teacher Training Course Curriculum
Hatha Yoga Asanas
Meditative steps of performing the hatha yoga; centering, entering, refining, holding, coming out, and reflection
Astanga vinyasa flow – series 1
Surya namaskar (sun salutations) – dynamic surya namaskar, surya namaskar with breathe awareness, surya namaskar with mantra chanting
Types of hatha posture – standing poses, sitting poses, backward bending poses, forward bending poses, spinal twisting poses, fire series, inversion poses, shavasana
Postural alignment and art of adjustment
Counter pose
Contraindications
Pranayama (the Science of Breath)
Science of breath
Sitting postures for pranayama practice
How to establish diaphragmatic breathing before pranayama practice
1:1, 1:2 and 1:4 breathing practices
Types of pranayama – nadi shodhana pranayama, ujjayee, kapalabhati, bhastrika, shitali, shitkari, brahmari, and anuloma viloma
Bandhas (lock)
Jalandhara-bandha (chin lock)
Uddiyana-bandha (abdominal lock)
Moola-bandha (root lock)
Practice Relaxation and Yoga Nidra
Relaxation in daily life
Tension and relaxation
Systematic relaxation
31 relaxation
Meditation
What is meditation & what is not?
Meditation in daily life
Yoga asanas for meditation
2-5 minutes meditations
So-ham mediation
Yoga Anatomy & Physiology
Introduction about anatomy and physiology
Systems: Digestive system, Respiratory system
Effect of yoga posture on muscles and systems
Yoga philosophy
General introduction: six school of Indian philosophy
Samkhya and yoga
Highlight of ashtanga yoga: yama, niyam, asana, pranayam, pratyahara, dharana, dhyana, and samadhi
Life style and yoga ethics
Mudras
Jnana-mudra
Dhyan-mudra
Vishnu-mudra
Hridaya-mudra
Mantra chanting
Om mantra
Morning mantra
Guru mantra
Meal mantra
Gayatri mantra and more
Suryanamaskar mantras – 12 names of sun
Teaching Methodology
Lesson plan
Assignments
Practice teaching
Feed back
Group discussion
Questions and answers
Home work
Typical Daily Schedule
05:00
:
Wake Up!
06:15
:
Morning Prayer
06:30
:
Shat-kriya (Six Cleansing Exercises) & Pranayama Practices
07:30
:
Hatha Yoga Asanas (Session – I)
09:00
:
Breakfast
10:00
:
Yoga Philosophy, Life-style & Yoga Ethics
11:00
:
Yoga Anatomy & Physiology Workshops
12:30
:
Lunch
13:30
:
Self-Study & Self Practice Time
15:30
:
Karma-Yoga
16:00
:
Tea Time
16:30
:
Ashtanga Vinyasa Asanas (Session – II)
18:00
:
Relaxation & Meditation
19:00
:
Dinner
20:00
:
Self-Study
21:00
:
Go to Sleep!
Note: Daily Schedule is subject to change.
Upcoming Dates for 50-hours yoga teacher training course
This 50-hours yoga teacher training course is usually held on 2nd – 8th of every month throughout the year. So you can apply for any month in advance. Our upcoming 50-hours yoga teacher training courses are on the following dates:
Available All Year Round | Price US $350
| | | |
| --- | --- | --- |
| 2nd – 8th October | 50 hours yoga teacher training course in Rishikesh, India | |
| 2nd – 8th November | 50 hours yoga teacher training course in Rishikesh, India | |
| 2nd – 8th December | 50 hours yoga teacher training course in Rishikesh, India | |
| 2nd – 8th January | 50 hours yoga teacher training course in Rishikesh, India | |
| 2nd – 8th February | 50 hours yoga teacher training course in Rishikesh, India | |
| 2nd – 8th March | 50 hours yoga teacher training course in Rishikesh, India | |
| 2nd – 8th April | 50 hours yoga teacher training course in Rishikesh, India | |
| 2nd – 8th May | 50 hours yoga teacher training course in Rishikesh, India | |
| 2nd – 8th June | 50 hours yoga teacher training course in Rishikesh, India | |
| 2nd – 8th July | 50 hours yoga teacher training course in Rishikesh, India | |
| 2nd – 8th August | 50 hours yoga teacher training course in Rishikesh, India | |
| 2nd – 8th September | 50 hours yoga teacher training course in Rishikesh, India | |
| 2nd – 8th October | 50 hours yoga teacher training course in Rishikesh, India | |
| 2nd – 8th November | 50 hours yoga teacher training course in Rishikesh, India | |
| 2nd – 8th December | 50 hours yoga teacher training course in Rishikesh, India | |
50 Hour Yoga TTC in Rishikesh – Course Fee (Private and Shared Accommodation)
| Accommodation Type | Price | Person |
| --- | --- | --- |
| Private Single Room | US $410 | 1 |
| Shared Twin Room | US $350 | 1 |