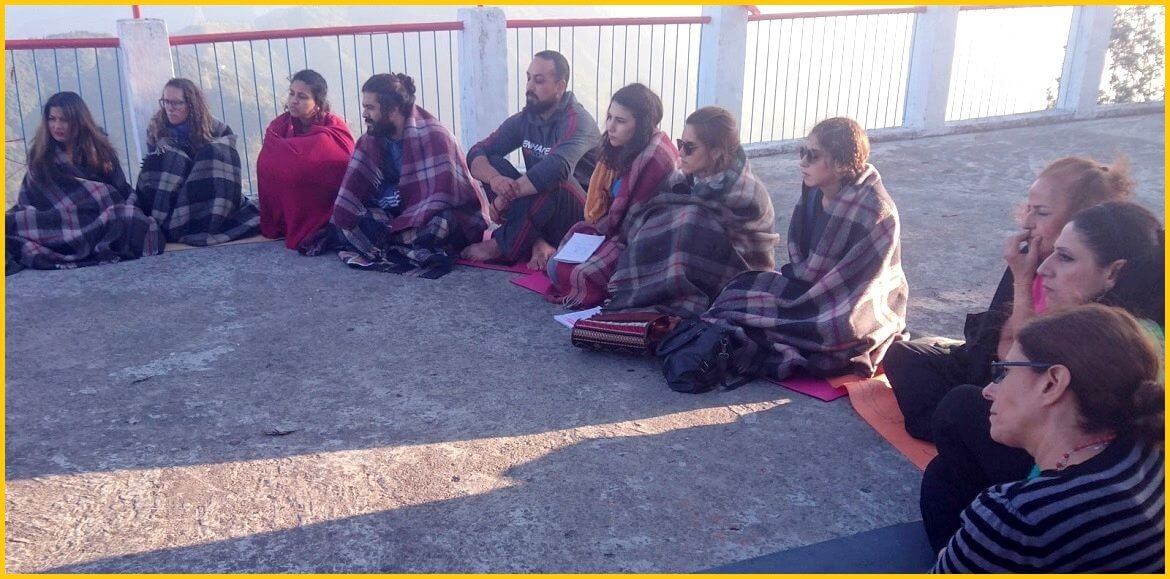 3 Days Himalayan Meditation & Yoga Retreat In Rishikesh, India | Price US$ 99
3 Days | Beginner
---

This 3 Days Himalayan Meditation & Yoga Retreat aims to guide aspirants to disclose their hidden urge of spiritual quest and give an opportunity to experience the calm and peaceful spiritual environment of the Himalayas by hiking and trekking.
3 Days Himalayan Meditation & Yoga Retreat Highlights
Daily yoga and meditation sessions
Opportunity to explore the nearby holy shrines and temples
Opportunity for tracking in the Himalayas
Introductory study of Indian philosophies
Daily pranayama and breath awareness practices
Exploring the holy town of Rishikesh
Daily vegetarian meals with snacks
Note: For an AC room please inquire from the School)
2 nights' accommodation
Healthy nutritious vegetarian three meals; breakfast, lunch, and dinner
Who Should Apply for 3 Days Himalayan Meditation & Yoga Retreat?
3 Days Himalayan Meditation & Yoga Retreat Course is designed and perfect for the students who;
are either fresh beginners or yogis of all levels,
are interested in trekking and hiking the mountains along with learning about yogic lifestyle,
wish to experience a deep and intense life changing experiences,
are looking for a detoxification from their life through yogic wisdom, science and practices,
The 3 Days Himalayan Meditation & Yoga Retreat will explore the concept of yoga through spiritual discourses along with the Himalayan trekking. This is designed assist students of yoga to understand and experience hidden desire for a hidden quest for discovering the reality within. The students will be guided through a very basic level of understanding of yogic concepts along with the trips, trekking and hiking the mountains.
Apart from the Yoga nidra sessions, students will have sessions on Pranayama (understanding and regulating our breath), Pratyahara (internalisation of sensory inputs), Dharana (concentration), Dhyana (meditation) processes drawn from the Patanjali Yoga Sutras – ancient Yogic doctrine that aims to integrate our body, mind, heart and souls for complete living.
3 Days Himalayan Meditation & Yoga Retreat Course Curriculum
Trekking and Hiking
Opportunity to explore the nearby holy shrines and temples
Opportunity for tracking in the Himalayas
Hatha Yoga Asanas
Meditative steps of performing the hatha yoga; centering, entering, refining, holding, coming out, and reflection
Surya namaskara (sun salutations)
Types of yoga asanas – standing, sitting, backward bending, forward bending, spinal twisting, fire series, inversion, shavasana etc.
Yoga asanas benefits
Breathing & Pranayama Practices
Establishment of diaphragmatic breath
1:1, 1:2 and 1:4 breathing practices
Different practices of pranayama: nadi-shodhana, ujjayi, kapalabhati, bhastrika, shitali, shitkari and brahmari
Benefits or pranayama practices
General topics
Practice relaxation and preparation for yogic sleep
Introduction to the concept and practices of relaxation
Relaxation in daily life
Sequence of relaxation practices
Tension and relaxation exercises
Systematic relaxation exercises
31 points relaxation exercise
Meditation
What is meditation and what is not
Meditation in daily life
Two to five minutes meditation
So-ham mediation
Meditation with sushumna breath
Yoga philosophy, life-style, and yoga ethics
Introduction to Indian philosophy
The yoga sutras of Patanjali
Ashtanga yoga, Yama, Niyam, asana, pranayama, pratyahara, dharana, dhyana, and samadhi
Yoga ethics
Yamas and niyamas
More on the ethics of a teacher
Typical Daily Schedule
05:00am
:
Wake Up!
06:00 – 06:15
:
Karma Yoga & Mantra chanting
06:15 – 07:00
:
Shat-kriyas & Pranayama practices
07:00 – 08:30
:
Warm-up exercises, joints and glands following Hatha-Yoga asanas
08:30 – 10:00
:
Breakfast and free time
10:00 – 12:00
:
Explore Time
13:00 – 14:30
:
Lunch
14:30 – 15:45
:
Explore Time
16:00 – 16:15
:
Tea break
16:15 – 18:00
:
Astanga Vinyasa sessions
18:30 – 19:30
:
Dinner and free time
19:30 – 20:30
:
Guest lecturers/Satsanga/Meditation/Audios and videos/Self-study/Inner dialogue
21:00pm
:
Go sleep!
It is advised that you arrive at the yoga school one day before the course starts.
Upcoming Dates for 3 Days Himalayan Meditation & Yoga Retreat
This 3 Days Himalayan Meditation & Yoga Retreat is usually held on 26th – 28th of every month throughout the year, but we welcome the aspirants to apply for any dates in any month in advance. Our upcoming the 3 Days Himalayan Meditation & Yoga Retreats are on the following dates:
Available All Year Round | Price US$ 99
| | | |
| --- | --- | --- |
| 26th – 28th January | 3 Days Himalayan Meditation & Yoga Retreat, India | |
| 26th – 28th February | 3 Days Himalayan Meditation & Yoga Retreat, India | |
| 26th – 28th March | 3 Days Himalayan Meditation & Yoga Retreat, India | |
| 26th – 28th April | 3 Days Himalayan Meditation & Yoga Retreat, India | |
| 26th – 28th May | 3 Days Himalayan Meditation & Yoga Retreat, India | |
| 26th – 28th June | 3 Days Himalayan Meditation & Yoga Retreat, India | |
| 26th – 28th July | 3 Days Himalayan Meditation & Yoga Retreat, India | |
| 26th – 28th August | 3 Days Himalayan Meditation & Yoga Retreat, India | |
| 26th – 28th September | 3 Days Himalayan Meditation & Yoga Retreat, India | |
| 26th – 28th October | 3 Days Himalayan Meditation & Yoga Retreat, India | |
| 26th – 28th November | 3 Days Himalayan Meditation & Yoga Retreat, India | |
| 26th – 28th December | 3 Days Himalayan Meditation & Yoga Retreat, India | |
Course Fee (Private and Shared Accommodation)
| Accommodation Type | Price | Person |
| --- | --- | --- |
| Private Single Room | US $99 | 1 |
| Shared Twin Room | US $120 | 1 |