About Yoga Vidya Mandiram
Yoga Vidya Mandiram is a registered Yoga School centered in the magical Himalayan valley of Rishikesh, India. This is dedicated to restore, explore and impart the purest form of yogic knowledge and its science. Our Yoga School aims to bring forth and maintain the yogic values to their ancient and traditional purity as taught by the yogis of the Himalayan masters. Thus our Yoga School stands a bridge between pure and traditional form and the contemporary format of yoga and meditation learnings. Our deep understanding of the true concepts of yoga and meditation and the ability to interpret it through scientific verification enables us to help people understand its core essence.
Our school promotes irrespective of Caste, Creed or Religion true human values such as peace, kindness, love and service through the teachings of yoga and meditation. Yoga is in its true sense suggests a beautiful and enriching way to connect with each other. We believe that no matter which country we come from, WE WELCOME YOU!
Our Mission
The center is dedicated to restore, explore and impart the purest form of knowledge of Yoga and Meditation to their ancient and traditional purity as taught in the long lineage of the Himalayas by the great yogis. We aim to serve humanity through spiritual re-awakening using our ancient inheritance of the spiritual and philosophical sciences of yoga in general, and Meditation in particular as taught by the great yogis of the Himalayas.
Transformation
Helping people create positive change from the inside out…
We honor and encourage all people and the underlying potential for greatness in their lives. Through the practices of yoga and meditation, we teach skills which support each student's ability to pursue their full potential.
We strive for transparent honesty in our communication with donors, institutions, staff, and students.

We conduct ourselves with consistency in word and deed, maintaining integrity and professionalism in all our community interactions.
Respect and Compassion
We encourage non-violent communication, openness, and safety in our classes, compassionately aware of the personal challenges experienced by many of our students.

We are respectful of the internal cultures of the institutions in which we serve.
We honor the mission of Living Yoga by maintaining administrative systems, policies, and procedures that ensure long-term sustainability of our programs.

We encourage the effective and sustained development of human resources by providing meaningful opportunities, extensive training, mentoring, and support.
We honor the practice of selfless service, or Karma Yoga, recognizing that the one served and the one serving are both being transformed.
Yoga Education
Education takes place when, the person is open to any new learning experience at any age, time and place with an open mind.
The person who is open to learn Yoga, he has to go through all the stages and learn all the aspects. The Yoga Education is based on four aspects – Bhavas or attitudes: Dharma (Duty and Discipline), Jnana (Knowledge), Vairagya (Detachment) and Aishvarya (Self-realization). These four aspects are related and covered by Astanga Yoga, The Classical Yoga – as Yama, Niyama, Asana, Pranayam, Pratyahar, Dharna, Dhyan and Samadhi.
The Yama and Niyam: Restraints and Observance cover the Dharma. How to perform once duty and how to live a disciplined life? Asana and Pranayam covers Jnana through awareness and personal practical experiences. Pratyahar and Dharna covers Vairagya. How to detach from the surroundings through controlling the five senses and Dhyan and Samadhi covers Aishvarya, the pure consciousness.
The practice of duties and disciplined life brings awareness. The awareness brings knowledge and wisdom to discriminate good and bad, right and wrong, pure and impure, true and false. So the wise person will easily detach from the things that are not suitable for his personal growth. The virtue of Detachment brings the power of concentration, which, leads to the highest stage of self-realization.
Yoga education takes place much more at sub-conscience level. Your learning experience becomes a life style! It becomes a part of your day-to-day living. Thus the whole process transforms the person from the gross to the subtlest level of experiences and consciousness.
Hatha Yoga (Classical)

Ashtanga Vinyasa

Iyengar Yoga

Shatkarma (Clensing Practices)

Pranayama & Meditation

Yoga Nidra (Yogic Sleep)

Yoga Anatomy & Physiology (Workshops)

Kundalini & Chakra

Ayurveda

Sankhya, Yoga, Vedanta & Tantra Philosophies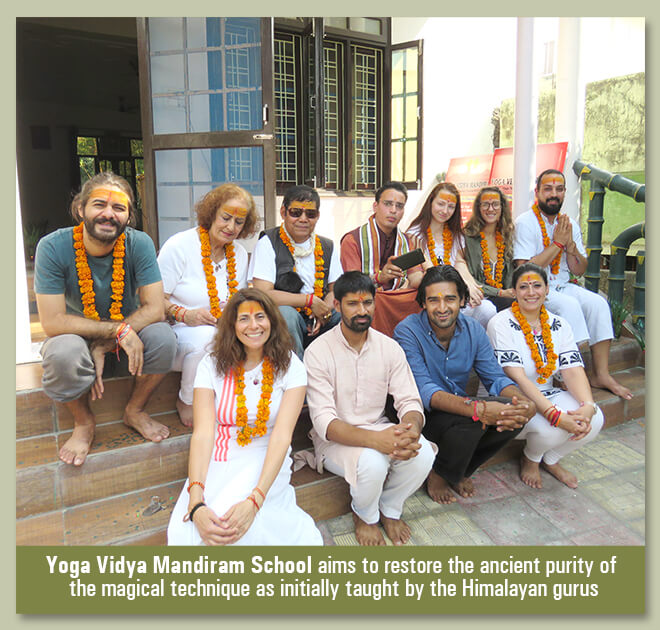 Yoga Vidya Mandiram School aims to restore the ancient purity of the magical technique as initially taught by the Himalayan gurus.
Yogic Science
Yogic teachings and practices have been verified by the scientific community. Over the last half of the 20th and this 21st century people have taken yogic learning little seriously and apply the yogic principles in their day-to-day lives. However it is seen that people have more interest in the physical aspects of yoga, it is may be due to their awareness is limited to the physical contents of the personality. Today as there is growing a physical awareness in society there can be seen an awareness growing towards to inner contents of people's personality. But still today there need to be cultivated such inner awareness by the educated people-professors, doctors, philosophers, scientists and politicians since they are the central force of a society and all other people believe and follow their words. Today, it is seen that an abundant of people from all over the world have started learning yoga as their profession and they use it an earning tool. Because of which the purpose of yoga as it set originally have changed. The author of the Yoga-sutras mentions several time the purpose of yoga as the kaivalya, liberation or total freedom. Our Yoga School, Yoga Vidya Mandiram in Rishikesh, India offers the yoga courses to fulfil both purposes of yoga; awakening of the inner and outer awareness through the teaching and science of yogis of the Himalayas.
Meet our Team
Yoga Vidya Mandiram is a registered Yoga School centered in the magical Himalayan valley of Rishikesh, India. This is dedicated to restore, explore and impart the purest form of yogic knowledge and its science.
Acharya Onit Kumar
Director/Yoga Teacher
Acharya Onit Kumar is a well qualified and experienced instructor of Hatha-Yoga. He is regarded as one of the very inspiring Hatha-Yoga teachers in Rishikesh. He has in-depth knowledge and has been practicing yoga therapy, marma therapy, alternative therapy, hatha yoga and yoga philosophy. He owes this to his yoga practice and the blessings of all the Masters he learnt from. He is also specialized in teaching physical, breathing and mental training techniques to students of different sex and age from diverse cultural backgrounds.
He started his journey in his early age in a spiritual environment. He completed his formal education in MSC in Yogic science from Gurukul Kangri University, Haridwar. He also holds an E-RYT 200 & RYT 500 from Yoga Alliance USA.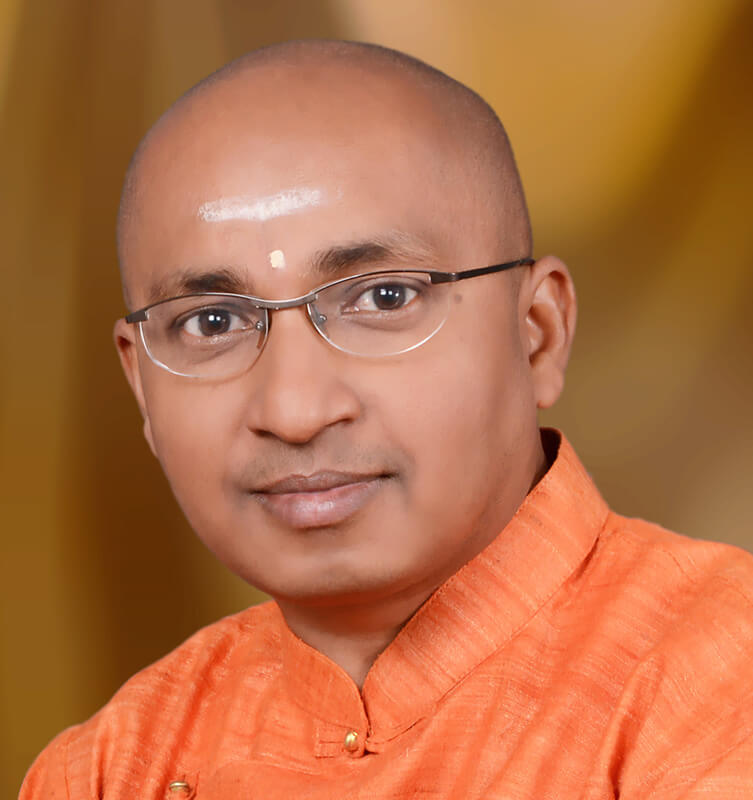 Swami Omkarananda
Yoga & Spirituality
Swami Omkarananda, grew up around the great lady saint of India, Ma Anandamayi He studied and lived with six enlightened Masters Swami Dayananda Saraswati, Swami Veda Bharati, Swami Chidananda Saraswati, Dalai Lama, Lung Chu, and the Master of Masters Kalyan Babaji of Himalayas. Swamiji has multifaceted experience in the field of metaphysics, parapsychology, and mind-matter interaction like psychokinesis and psychic healing, as well as profound knowledge in Vedanta, Sanskrit, holistic lifestyle and yoga. By Dalai Lama's reference, he visited a Tibetan monastery, where he decided to leave his secular job permanently in order to stay and study with the great Tibetan Master – Lung Chu. Devoting himself to spirituality fully, Swamiji started living with the great enlightened Himalayan Masters. On his spiritual path, he was initiated into the highest secrets of meditation, karmic purification, pranic healing and the art of dying consciously. With the blessings and permission of his Master, Kalyan Babaji, Swami Omkarananda now travels throughout the world as a peace messenger to teach and inspire thousands of seekers around the globe. His remarkable intuition and transcendental aptitude in raising one's consciousness, coupled with personal warmth and charisma, leaves a permanent impact on our awakening and growth. Academically, Swami Omkarananda holds a degree in Electronic Engineering, along with five Masters Degrees and a PHD in Metaphysics. His professional experience ranges from the field of nuclear science in India to heading a yoga school in China, teaching at the department of consciousness of a Vedic health center in Switzerland, and doing research at the Theosophy Society in Japan. A seeker of truth with an engineering background, Swamiji correlates science with ancient wisdom to create and inspire applied spirituality and transformation in our everyday lives.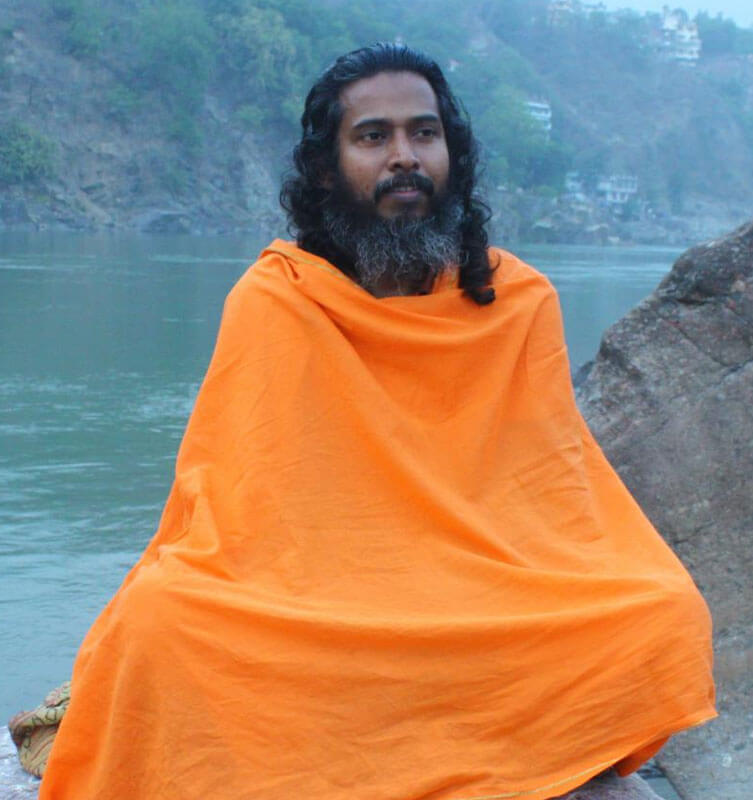 Swami Atma Jnanananda
Yoga Philosophy (Yoga Alliance E-RYT 200 (Yoga))
Swami Atma Jnanananda Giri is a sadhaka from Swami Rama Sadhaka Grama, Rishikesh, who by profession is a homeopathic doctor, learnt meditation techniques from his guide and teacher, Swami Veda Bharatiji. Now he delivers his lectures and classes on meditation, mantra chanting, yoga Nidra, and philosophical texts, such as Bhagavad-gita and Patanjali Yoga-sutras. According Swami Atma "finding happiness and peace within oneself is the greatest achievement in life."
Yoga Vidya Mandiram
(Registered Yoga School in Rishikesh)
Our school is a registered 200 RYS, 300 RYS and 500 RYS at Yoga Alliance USA. We offer certified Yoga Teacher Training Courses (Yoga TTC) for different levels of students Beginner-Intermediate-Advance. The most popular 200-hour Yoga Teacher Training Course, 300-hour Yoga Teacher Training Course, and 500-hour Yoga Teacher Training Course are held under the guidance of yoga alliance certified 200 E-RYT and 500 E-RYT yoga experts and trainees. The school also offers other certified Yoga TTC, Yoga Courses and Yoga Retreats including Hatha-Yoga TTC, Ashtanga-Yoga TTC, Vinyasa-Yoga TTC, Meditation Yoga Teacher Training and Yoga Retreats in Rishikesh.
Our Yoga School Yoga Vidya Mandiram is a 200 RYS, 300 RYS and 500 RYS registered with Yoga Alliance, USA and offers certified Yoga Teacher Training and Yoga Retreats in Rishikesh, India. So after the successful completion of the course you will a certification.
Yoga Vidya Mandiram is the educational body under "Yoga Vidya Mandiram Charitable Trust" which time to time organizes charitable activities including "Yoga Training Courses" and "Heath Awareness & Yoga Camps" in different parts including rural areas of India.
Our School Yoga in located in the magical valley of the sacred homes of yogis and the origin of yogic knowledge and its practices in Rishikesh India. Rishikesh is the "Capital of Yoga". There are holy shrines, mountain, Holy river Ganga and much more to explore.