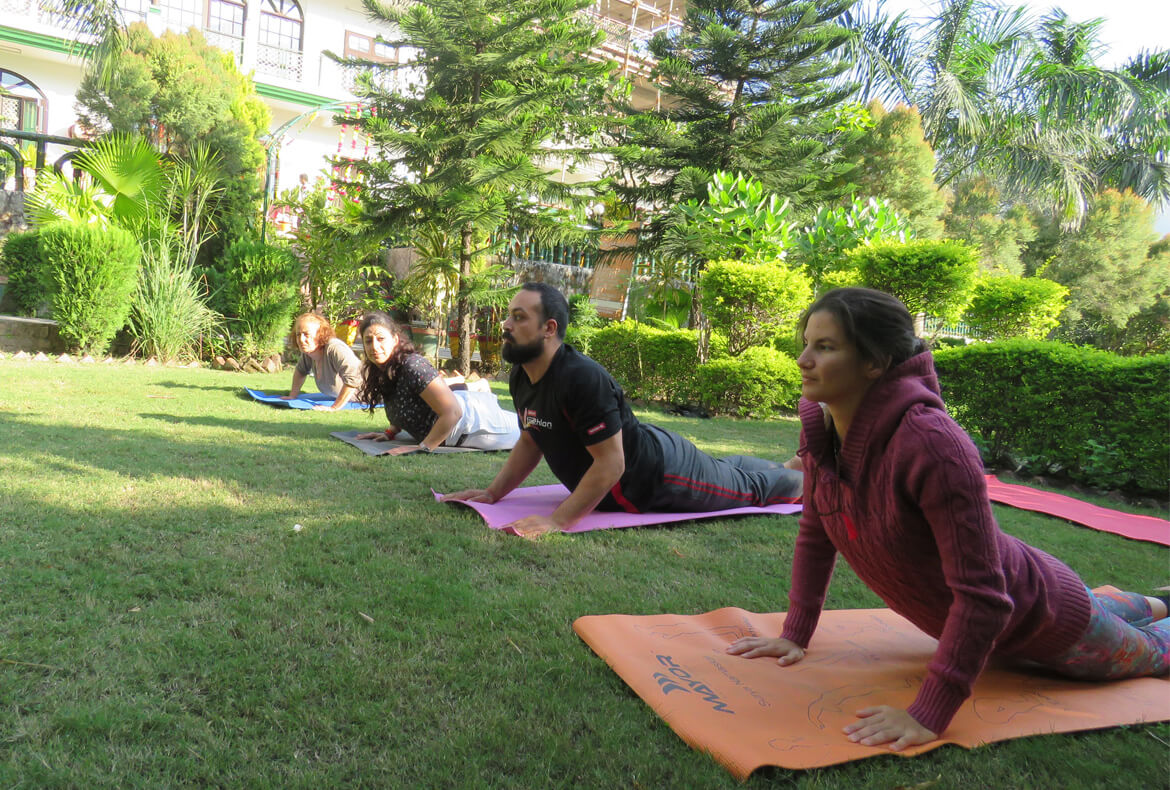 10 Days self transformational sun salutation Retreat – In Rishikesh, INDIA | Price US$ 850
10 Days | Intensive
---

10-day retreat will make one experience the integration of one's entire personality. This retreat will introduce Surya Namaskar which is the most ancient form activating and worshiping thy self. This retreat will also guide one to fall into yoga Nidra just after doing Surya Kriya and how one. Every posture in Surya Namaskar has its anatomical and philosophical benefits for one's mind and body. This retreat will discuss how to transform oneself in systematic eight steps given by the prestigious, Guru Swami Rama, in the book 'Path of Fire and Light'. There will be an introduction to Raja yoga philosophy which is the eight steps ladder of the systematic process of achieving the highest form of wisdom 'samadhi'.
Retreat Highlights
10 days of practice
4 yoga classes per day
Daily meditation sessions
Pranayama, joints, and glands lessons
Course certification upon completion
Daily breakfast, lunch, and dinner
10 days and 9 nights' accommodation
8 Elements of Retreat Syllabus
Breathing & Pranayama: Controlling the breath and thus calming the nerves, is prerequisite to controlling the mind and the body' by Swami Rama. This retreat will discuss three different types of breathing which are chest or thoracic, abdominal or belly breathing, and diaphragmatic breathing. Which type of breathing is harmful and beneficial for the body will be thoroughly discussed. How breathing affects moods and emotions. How one can just eliminate stress and negativity just by being aware of the flow of breath. There will be the practice of pranayama which means the control of the flow of energy by giving direction to one's breath. There will be guided practicum of pranayama and kriyas such as Kapalabhati, Bhastrika, Brahmari, and Nadi Shodanam. Their benefits and importance will also be discussed.
Relaxation and meditation: Meditation is a self-effort, a probe into inner life, and will reveal all the secrets to you in time to come' by Swami Rama. Meditation is a word and a process which has been highly misused and yet there is a good deal of confusion what meditation is and how it is practiced. Meditation is not contemplation or thinking, it is not hypnosis or autosuggestion, it is not a religion. Meditation is simply a mediation in the inner world by being aware of the flow of the breath.
It is a specific technique for completely resting the mind. There will be guided meditation and how to prepare oneself for meditation every day at the same time and same place to create a new groove in your mind. Relaxation of mind and body has become very important in your hectic life schedule. This retreat will make one get rid of stress and negativity by different kind of relaxation techniques such as systematic progressive relaxation, point to point relaxation, and tension relaxation. They will be discussed on anatomy and physiology of relaxation.
Joints and glands: All the disciplines of yoga are intended for one purpose – to awaken in you a renewed sense of balance and harmony that will gradually reintroduce you to yourself'. Joints and glands are not just the movements to warm up the body. It is a very important practice to keep your joints and glands activated and healthy throughout one's life. It re-coordinates the system and makes one feel more alive. Awareness is brought to the areas that have been frozen or forgotten.
This retreat will introduce a different kind of doing of joints and glands which is done in synchronized synergy meaning with the flow of the breath and in the nonstop free flow. It brings one's attention to detail to the movement and its effect on breath and body.
Surya Namaskar (Hatha yoga): When one begins to understand from where that gentle part of the forcing comes, the meaning of Hatha ('ha' is sun and 'tha' is moon) shifts and then one is thinking not the physical body alone but of subtler truths, cosmic truths, the universal energy fields, the sun and the moon.' by Swami Ved Bharati. There are three approaches to Hatha yoga which are tapas (ascetic practice), worship, and the evolution of mind. Surya Namaskar is a very ancient form of worshipping and activation the inner sun and moon.
This is a myth that Surya Namaskar can only be done with the sun rising. Surya Namaskar has got nothing to the outer sun, the sun is a representation of a type of energy within your yogic body. In this retreat, one will be guided in the worshipping, flowing, and spiritual part of Surya Namaskar, not just a mere exercise. Every posture activates different psychological and anatomical effects which will be thoroughly discussed.
Every posture activates different centers of consciousness and what effects does it have in your mind and body will be discussed. By the end of the retreat, one would have already learned to do one Surya Namaskar in one hour.
 61 points and introduction to yoga Nidra: The word yoga means 'union'. When your individual soul unites with the cosmic soul, when you are one with the absolute, that is yoga.' by Swami Rama. Just like the word 'meditation', the word 'yoga Nidra' is also very misused and there is much confusion about it. Yoga Nidra is not something that can be done, it occurs. One can just only initiate the process of going into yogic sleep. Yoga Nidra is half-sleep and half-walking state: it is not waking state and it is not really a sleep state.
It is a state where one can gain complete rest and a little bit of sleep, but remain fully awake. In this retreat, one will be taught to achieve breathlessness after only which yoga Nidra can be initiated in the corpse posture. One will be taught how to make tissue memory of 61 points of Shava Yatra which is the journey of the consciousness to the pilgrimage sites inside the yogic body.
Path of fire and light: eight steps to self-transformation: You have the capacity and strength to expand your conscious mind with the help of a method that is called 'interior research' the internal journey. This instruction is leading you on the path called 'the path of the keyless door'.' by Swami Rama. This will include the reading and discussion of the book 'Path of Fire and Light' by the prestigious, Guru Swami Rama. In this book, your main emphasis will be on eight steps of self-transformation. Usually, the door is locked and there is no key, but you are learning to open it.
You have to open it and you have the power to do so. Your mind is yours; know your mind. To open the door and start your inner journey, you need to learn several points and apply them systematically.
Philosophy of Raja yoga: Yoga is a systematic science; its teachings are an integral part of most religions, but yoga itself is not a religion. Most religions teach what to do, but yoga teaches how to be.' by Swami Rama. Raja yoga, the royal path. This highly scientific path was systematized by the codifier of yoga, Patanjali. By following it, one learns to control his desires, emotions, and thoughts as well as the subtle impressions that lie dormant in the unconscious.
It unites the individual to the cosmic reality by means of the eight rungs in the ladder of yoga, which are systematically explained and described. The aspirant finally gains the eight-rung called 'samadhi'.
Cleansing practices: Neti cleanses the cranium and bestows clairvoyance. It also destroys all diseases that manifest above the throat' by Hatha yoga Pradipika. This retreat will also teach one how to do nasal wash so that nose is free of extra mucus and bacteria which allows the breath to flow freely in both the nostrils. There will be some additional cleansing exercises taught such as bowel movement and digestive breathing which is very important for a yogic life.
[/dt_sc_fancy_ul]
Typical Daily Schedule
05:00 am
:
Wake up, walk, bowel movement, or nasal wash
06:00
:
Tea and honey lemon water
06:30 – 08:30
:
Joints and glands, Surya Namaskar, pranayama, yoga Nidra, or relaxation and meditation
10:30 – 13:00
Discussion, reflection, Raja yoga, or yoga Nidra
13:00 – 14:00
Lunch
14:00 – 15:00
Video on the lecture by Swami Rama
16:30 – 18:30
Joints and glands, Surya Namaskar, pranayama, yoga Nidra, or relaxation and meditation
19:00 – 20:00
Dinner
20:00 – 21:00
Yoga Nidra or relaxation and meditation
9:00
Go sleep!
It is advised that you arrive at the yoga school one day before the course starts.
Upcoming Dates for Retreat
Our upcoming Retreats are on the following dates:
Available All Year Round | Price US$ 850
| | | |
| --- | --- | --- |
| 14-23  October, 2018 | 10 Days Self Transformational Sun Salutation Retreat | |
| 14-23  November, 2018 | 10 Days Self Transformational Sun Salutation Retreat | |
| 14-23  December, 2018 | 10 Days Self Transformational Sun Salutation Retreat | |
| 14-23 January, 2019 | 10 Days Self Transformational Sun Salutation Retreat | |
| 3-12  Feb, 2019 | 10 Days Self Transformational Sun Salutation Retreat | |
| 14-23  March, 2019 | 10 Days Self Transformational Sun Salutation Retreat | |
| 14-23  April, 2019 | 10 Days Self Transformational Sun Salutation Retreat | |
| 14-23  May, 2019 | 10 Days Self Transformational Sun Salutation Retreat | |
| 14-23  June, 2019 | 10 Days Self Transformational Sun Salutation Retreat | |
| 14-23  July, 2019 | 10 Days Self Transformational Sun Salutation Retreat | |
| 14-23  August, 2019 | 10 Days Self Transformational Sun Salutation Retreat | |
| 14-23  September, 2019 | 10 Days Self Transformational Sun Salutation Retreat | |
Course Fee (Private and Shared Accommodation)
| Accommodation Type | Price | Person |
| --- | --- | --- |
| Private Single Room | US $1000 | 1 |
| Shared Twin Room | US $850 | 2 |